АКТУАЛЬНЫЕ ПРОБЛЕМЫ РАЗВИТИЯ БАНКОВСКИХ ТЕХНОЛОГИЙ В РЕСПУБЛИКЕ КАЗАХСТАН
Ключові слова:
банковская технология, банковская инновация, платежная система, цифровизация
Анотація
В статье охарактеризована сущность и предоставлена классификация банковских технологий, обоснована роль информационных технологий. Автором исследованы современные тенденции развития рынка банковских услуг республики Казахстан, основой предоставления которых является использование современных технологий и обоснованно перспективные направления его дальнейшего развития.
Посилання
Shamin, E. A., Generalos, I.G., Zavivaev, N.S. & Cheremukhin, A.D. (2015) Suschnost informatizatsii, ee tseli, sub'ektyi i ob'ektyi [The essence of informatization, its goals, subjects and objects]. Vestnik NGIEI - NGIEI Bulletin, 11, 99–107 [in Russian].
Tavasiev, A. M., Mehryakov, V. D. & Eriashvili, N. D. (2017). Bankovskoe delo. Upravlenie i tehnologii [Banking. Management and technology]. Moskva: Yuniti-Dana [in Russian].
Gorelaya, N. V. & Karminskiy, A. M. (2013) Osnovyi bankovskogo dela [Bank-ing Basics]. Moskva: ID «FORUM» – INFRA-M [in Russian].
Makarov, A. D. (2014) Upravlenie innovatsiyami i innovatsionnyimi tehnologiyami v bankovskom menedzhmente [Management of innovations and innovative technologies in banking management]. Uchenyie zapiski Sankt-peterburgskogo universiteta upravleniya i ekonomiki - Scientific notes of the St. Pe-tersburg University of Management and Economics, 4, 38–46 [in Russian].
Ohlopkov, A. V. (2011) Innovatsii v sfere predostavleniya bankovskih uslug [Banking innovation]. Doctor's thesis. Moskva [in Russian].
Нұр-Сұлтан (2020) Conception, that was dedicated 2020-2025 to the years, de-velopment financial technologies innovations [In Kazakhstan].
State system for ensuring uniformity of measurements. Metrological support of banking technologies. General Provisions. Requirements. GOST Р 8.561-95. Re-trieved from: https://docs.cntd.ru/document/1200026048 [In Kazakhstan].
Pinina, K.A. (2018) Sovremennyie informatsionnyie bankovskie tehnologii [Modern information banking technologies]. Tendentsii i perspektivyi razvitiya bankovskoy sistemyi v sovremennyih ekonomicheskih usloviyah: materialyi Mezhdu-narodnoy nauchno-prakticheskoy konferentsii - Proceedings of the international sci-entific and practical conference: Trends and prospects for the development of the banking system in modern economic conditions, (pp. 174–176). Kazan [in Russian].
Samsonova, E. A., Astahov, V. Yu. & Adzhieva, A. Yu. (2018) Informatsionnyie tehnologii kak instrument sovershenstvovaniya bankovskogo sektora [Information technology as a tool for improving the banking sector]. Alleya nauki - Alley of Sci-ence, 4, 932–934 [in Russian].
Ermakova, L. V., Gudkova, O. V. & Dvoretskaya, Yu. A. (2018) Innovatsionnyie tehnologii na ryinke bankovskih uslug [Innovative technologies in the banking market]. Byulleten nauki i praktiki - Science and Practice Bulletin, 5, 424–429 [in Russian].
Komarova, L. V. (2015) Primenenie informatsionnyih tehnologiy v bankovskoy sfere [The use of information technology in the banking sector]. Ekonomika i upravlenie: problemyi, resheniya - Economics and Management: Problems, Solutions, 3, 101–103 [in Russian].
Zhirnova, A. M. & Zinoveva, N. M. (2015) Innovatsionnyiy faktor kak osnova razvitiya predprinimatelstva [Innovation factor as the basis for the development of entrepreneurship]. Innovatsionnyie podhodyi k resheniyu sotsialno-ekonomicheskih, pravovyih i pedagogicheskih problem v usloviyah razvitiya sovremennogo obschestva: materialy Mizhnarodnoyi naukovo-praktychnoyi konferentsiyi – Proceedings of the scientific and practical conferences: Innovative approaches to solving socio-economic, legal and pedagogical problems in the context of the devel-opment of modern society. Staryiy Oskol [in Russian].
Zinoveva, N. M. (2016) Osnovyi formirovaniya investitsionnoy politiki kommercheskogo Banka [Fundamentals of the formation of the investment policy of a commercial bank]. Novaya nauka: sovremennoe sostoyanie i puti razvitiya - New science: current state and development paths, Part 1 [in Russian].
Natsionalnyiy Bank Kazahstana [National Bank of Kazakhstan]. Retrieved from: https://www.nationalbank. kz/ru?switch=kazakh [in Russian].
Forbes: Kaspi Bank URL: https://forbes.kz//ranking/object/8 [in Russian].
Mezhbankovskaya sistema perevodov deneg (statistika za fevral 2021 goda) [In-terbank money transfer system (statistics for February 2021)]. Retrieved from: https://finreg.kz/?docid=672&switch=russian [in Russian].
Novosti Kazahstana [Kazakhstan news] Retrieved from: https://www.nur.kz/ [in Russian].
Zorin, G. E. (2020) Iskusstvennyiy intellekt i ego primenenie v bankovskoy sfere [Artificial intelligence and its application in banking]. Vestnik Rossiyskogo uni-versiteta kooperatsii - Bulletin of the Russian University of Cooperation, 1(39), 31–36 [in Russian].
Vasilenko, O. A. (2018) Osnovnyie tendentsii razvitiya novyih bankovskih produktov i uslug v Rossii na sovremennom etape [Main trends in the development of new banking products and services in Russia at the present stage]. Vestnik nauki i obrazovaniya -Science and Education Bulletin, 10(46), 33 [in Russian]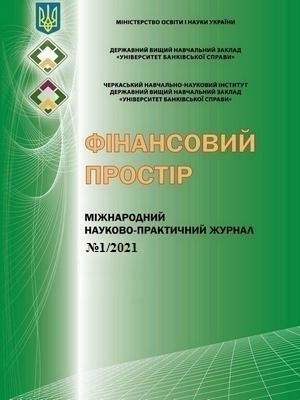 ##submission.downloads##
Ліцензія
Авторське право (c) 2021 Ляззат Сембиева, Аида Жагипарова, Индира Бексултанова
Ця робота ліцензується відповідно до Creative Commons Attribution-NonCommercial 4.0 International License.
Під час подання рукопису до журналу автори повинні підтвердити його відповідність всім встановленим вимогам, вказаним нижче. В разі виявлення невідповідності поданої роботи пунктам цих вимог редакція повертатиме авторам матеріали на доопрацювання.
Імена та електронні адреси, вказані користувачами на сайті цього журналу, будуть використані виключно для виконання внутрішніх технічних завдань цього журналу; вони не будуть поширюватись та передаватись стороннім особам.