Перспективи використання дронів і автономних систем у процесах оцінки страхової вартості та страхових збитків
Ключові слова:
страхування, технології, дрони і автономні системи, InsurTech, оцінка, страхова сума, страховий збиток
Анотація
У статті окреслено використання цифрових та технологічних новацій у страхуванні, актуалізовано використання автономних систем та дронів. Визначено перспективи використання у страхуванні дронів і автономних систем у період війни та післявоєнного відновлення повноцінного функціонування економіки України. Досліджено застосування автономних систем і дронів у різних видах страхування. Визначено, на яких етапах технології реалізації страхового продукту автономні системи і дрони можуть бути застосовані, розкрито ризики та ефективність застосування їх страховиками для оцінки страхової вартості та страхових збитків.
Посилання
Popova, L.V. (2022) Suchasni tendentsiyi rozvytku tsyfrovykh tekhnolohiy u strakhuvanni. [Modern trends in the development of digital technologies in insurance]. Problemy suchasnykh transformatsiy. Seriya ekonomika ta upravlinnya – Problems of modern transformations. Economy and management series. Retrieved from: https://reicst.com.ua/pmt/article/view/2022-5-08-02/2022-5-08-02. [in Ukrainian].
Bazylevych, V. D., Prykazyuk, N. V. & Lobova, O. M. (2020) Tsyfrovizatsiya u zabezpe-chenni konkurentnykh perevah strakhovykh kompaniy. [Digitization in ensuring competitive advantages of insurance companies]. Ekonomika ta derzhava – Economy and the state, 2, 15-20. [in Ukrainian].
Denysenko, M.P. & Korhun, O.P. (2015) Innovatsiyi na strakhovomu rynku Ukrayiny. [Innovations in the insurance market of Ukraine]. Investytsiyi: praktyka ta dosvid – Investments: practice and experience, 21, 79-82. [in Ukrainian].
Erastov, V.I. (2018) Internet strakhuvannya na rynku strakhovykh posluh Ukrayiny [Internet insurance on the market of insurance services of Ukraine]. Candidate's dissertation. Kyiv National Taras Shevchenko University. Kyiv. Retrieved from: http://scc.univ.kiev.ua/upload/iblock/3d8/ dis_Erastov%20V.I..pdf [in Ukrainian].
Ilʹchuk, V.P., Parubetsʹ, O.M. & Suhonyako, D.O. (2018) Innovatsiyni pidkhody do rozvytku rynku kiberstrakhuvannya v Ukrayini. [Innovative approaches to the development of the cyber insurance market in Ukraine]. Efektyvna ekonomika – Efficient economy, 5. Retrieved from: http://www.economy.nayka.com.ua/ pdf/5_2018/5.pdf [in Ukrainian].
Naumenkova, S.V. & Mishchenko, S.V. (2010) Rynok finansovykh posluh [Financial services market]. Kyyiv.[in Ukrainian].
Nechyporuk, L. (2016) Innovatsiyi na rynku strakhovykh posluh v umovakh merezhevoyi ekonomiky [Innovations in the market of insurance services in the conditions of the network economy]. Wspolczesne trendy w gospodarce i sektorze publicznym – Contemporary trends in the economy and the public sector. Opole: The Academy of Management and Administration in Opole, 2.8, 165-174. [in Ukrainian].
Pikus, R. & Zakolodyazhnyy, V. (2015) Innovatsiynyy rozvytok strakhovoyi diyalʹnosti yak osnova pidvyshchennya yiyi efektyvnosti. [Innovative development of insurance activity as a basis for increasing its efficiency]. Visnyk Kyyivsʹkoho natsionalʹnoho universy-tetu im. Tarasa Shevchenka – Bulletin of Kyiv National University named after Taras Shevchenko. Economy, 3, 72-80. [in Ukrainian]..
Tkachenko, N. (2022) Spozhyvatsʹka loyalʹnistʹ yak marker efektyvnosti strakho-voho biznesu v umovakh didzhytalizatsiyi strakhovoho rynku. [Consumer loyalty as a marker of the effectiveness of the insurance business in the conditions of digitalization of the insurance market]. Naukovi zapysky Natsionalʹnoho universytetu «Ostrozʹka akademiya». Seriya «Ekonomika» – Scientific notes of the National University "Ostroh Academy". "Economy" series, 26(54), 101–106. [in Ukrainian].
Shubenko I. A. (2020) Tendentsiyi didzhytalizatsiyi na strakhovomu rynku Ukrayiny. [Digitization trends in the insurance market of Ukraine]. Biznes Inform – Business Inform, 2, 273-279. DOI: https://doi.org/10.32983/2222-4459-2020-2-273-279. [in Ukrainian].
Lehmann, M. & Eling, M. (2018) The Impact of Digitalization on the Insurance Value Chain and the Insurability of Risks. Geneva Papers on Risk and Insurance, 43, 359-396. Retrieved from: https://www.researchgate.net/publication/ 321636110_The_Impact_of_Digitalization_on_the_Insurance_Value_Chain_and_the_Insurability_of_Risks.
Tischhauser, P., Naumann, M. & Candreia, A. (Ed.) (2016) Digitalisierung: Der Schweizer Versicherungssektor im Umbruch. The Boston Consulting Group. Retrieved from: http://image$src.bcg.com/ BCG_COM/Report_Digitalisierung_ tcm2040440.pdf.
Bieck, C. & Cornelius, A. (2014) Winning strategies for insurers. How industry leaders are excelling outside the comfort zone. IBM Institute for Business Value. Retrieved from: https://www.ibm.com/downloads/cas/ BWXDNV7Y.
Pandemiya pryskoryla hlobalʹnu tsyfrovizatsiyu ta transformatsiyu strakhuvannya. [The pandemic has accelerated the global digitalization and transfor-mation of insurance.] Forinshurer – Forinsurer. Retrieved from: https://forinsurer.com/news/22/07/21/41520. [in Ukrainian].
Hlobalʹnyy rynok strakhovykh tekhnolohiy InsurTech do 2032 roku dosyahne $165,4 mlrd. [The global market for InsurTech insurance technologies will reach $165.4 billion by 2032]. Forinshurer – Forinsurer. Retrieved from: https://forinsurer.com/news/22/07/12/41470. [in Ukrainian].
Insurtech Trends – Report Bundle (7 Reports). 2022. Retrieved from: https://www.globaldata.com/store/report/insurtech-trends-bundle/
Datsenko, V. (2022) Armiyi droniv. Yak bezpilotnyky zaminyuyutʹ artyleriyu, aviatsiyu i katery na viyni v Ukrayini [Armies of drones. How drones replace artillery, aviation and boats in the war in Ukraine]. Forbes Ukraine. Retrieved from: https://forbes.ua/war-in-ukraine/armii-droniv-yak-u-viyni-v-ukraini-bpla-zaminyuyut- artileriyu-aviatsiyu-i-kateri-06122022-10273 [in Ukrainian].
Drone technology has dual benefits for insurers: accurate loss adjustments and cover for users. Life Insurance International. Retrieved from:https://www.lifeinsuranceinternational.com/comment/drone-technology-insurers-benefits/
Webster, P. (2022) Drone insurtech: insurance claims investigation from above. FintechOS. Retrieved from: https://fintechos.com/blogpost/drone-insurtech-for-insurance-claims-investigation/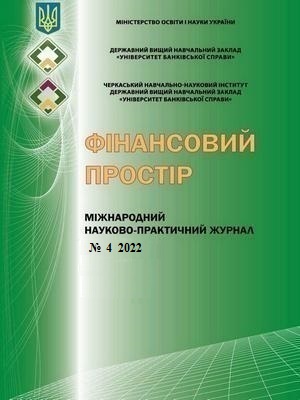 ##submission.downloads##
Ліцензія
Авторське право (c) 2022 Анатолій Харченко, Олена Шабанова, Владислава Гнатюк, Ольга Самосват
Ця робота ліцензується відповідно до Creative Commons Attribution-NonCommercial 4.0 International License.
Під час подання рукопису до журналу автори повинні підтвердити його відповідність всім встановленим вимогам, вказаним нижче. В разі виявлення невідповідності поданої роботи пунктам цих вимог редакція повертатиме авторам матеріали на доопрацювання.
Імена та електронні адреси, вказані користувачами на сайті цього журналу, будуть використані виключно для виконання внутрішніх технічних завдань цього журналу; вони не будуть поширюватись та передаватись стороннім особам.